Thank you to all those who attended
COLAB20 is mass knowledge sharing
on a massive scale at its finest and
without the crowds
It was a terrific day on LIVE conference day, and we'd love to send our thanks to all those who participated - our hosts, speakers, sponsors, exhibitors, the PrefabNZ team and our important PrefabNZ Members and delegates who attended. This conference was a new journey for the PrefabNZ team, and they came through with a winning formula. They hope you enjoyed yourself.
​
We acknowledge the learnings that came out of the conference and look forward to the future of such events with the experience now gained to deliver it bigger and brighter.
​
The On-Demand Library is available to all paid delegates until 30 July. NZIA CPD points will be processed on the 1st August. CPD points through other associations will need to be contacted directly by the delegate for processing.
The PrefabNZ team have updated the On-Demand library with the podcast series of the conference day interviews/Q&A's, panel discussions and roundtable sessions. These are freely available to paid delegates. For those who didn't pay to attend COLAB20 live, we have a post-conference package available for purchase ($99 +GST) which will give you access to these resources.
​
A survey will be sent out to delegates soon, and we would love and appreciate your feedback.
INTERNATIONAL KEYNOTE EXPERTS
Danny Forster & Architecture / US
Danny Forster
Architect and TV Presenter
Internationally recognised architect, Emmy-award-winning producer, and an influential speaker and educator. His wide-ranging career is unified in his singular ability to teach people to find meaning in buildings, and in his passion for opening their eyes to the built world around them. Read more about Danny here.
Gaynor Tennant
Chief Business Development Officer
A leader in removing the barriers of entry to enable greater uptake of offsite construction. Having early involvement in leading modular residential product developments like ILKE Homes and TopHat, both of whom have recently seen huge investment from Homes England and leading global investment bank Goldman Sachs. Gaynor has a solid grounding in every aspect of running MMC projects. Read her full bio here
Trudi Sully
Impact Director for Manufacturing
The Construction Innovation Hub is a programme funded by the UK Government through the Industrial Strategy Challenge Fund. The Hub is a catalyst for change in the way buildings and infrastructure are designed, manufactured, integrated and connected within our built environment. Trudi works with key industry partners and across Whitehall to provide critical insight and influence over the programmes strategic planning to ensure delivery. Read more about Trudi here
The Construction Innovation Hub /UK
James Murray-Parkes
James is an innovative, multi-disciplined scientist and engineering professional offering a broad range of expertise, experience, and leadership. His vast experience spans across forensic engineering, high load structural connection failure investigation and remedial design, James's unique connection designs are at the forefront of assembly and subassembly manufacture. Read James's full bio here
1-10 JUN : Ten days prior to the LIVE conference, all on-demand pre-recordings and library resources will be released, and the discussion boards open up to all registrants. Pre-absorb, digest, discuss, debate and pre-deliver your questions in the build-up to CoLab20 Innovation In Action LIVE on 11 June - the pinnacle of conference interactivity and first-hand knowledge sharing at its finest.
Note: We may make minor adjustments to the schedule as things progress.
JUN 1-10 | LIVE JUN 11 + 12
1June-6 July: All on-demand pre-recordings and library resources available to paid delegates. Go to Delegates Only/OnDemand to find pre-recorded presentations. Available to paid delegates till 6 July.
​
Thanks to our Partner whanau and conference sponsors
(MBIE, Kāinga Ora, BRANZ and MSD)
Note: We may make minor adjustments to the schedule as things progress.
INTERNATIONAL KEYNOTE SPEAKERS
ON-DEMAND
PRE-RECORDINGS
LIVE ONLY
JAMES MURRAY-PARKES PRESENTATION & WORKSHOP
DAYS TO ACCESS ON-DEMAND LIBRARY
CONTINUING PROFESSIONAL DEVELOPMENT POINTS
ADNZ
NZIA (60)
NZIQS
NZGBC
NZIOB
Engineering NZ
Assignment of CPD points will be provided to those who complete the following:
Watch all pre-recordings prior to LIVE conference day.

Attend the LIVE conference day and fill in the end-of-day survey.
Note: NZIA points will be processed on the 7th July.
Frequently asked questions
What are the COLAB20 virtual conference features?
---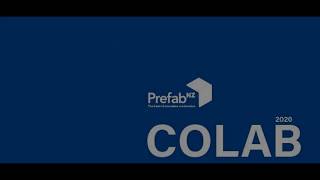 Watch a quick 3 minute video to discover all the fun features on COLAB20's virtual platform.
---
What are the system requirements for the virtual conference platform?
---
1. Make sure you are using a PC or laptop to ensure best conference experience. 2. Use Chrome or Firefox browser - make sure it is fully up to date. 3. Internet speed requirements: minimum of 5 mbps download and 2 mbps upload.
---
I've signed up and paid. What happens next?
---
Thanks, it's great to have you onboard! Before 1 June 2020, you will receive an email with login details to both the COLAB20 dedicated website and the virtual conference platform. The Delegates Only section on the COLAB20 website will open on 1 June, giving you access to all pre-recorded Speaker presentations, discussion forums, directory, exhibit hall and networking function. The virtual conference platform, where all LIVE action will happen on 11 June, opens on 10 June 2020. This will give you a chance to familiarise yourself with the platform and even use some of the features like the one-on-one networking function and visit the virtual booths in the Expo section. You can also check out the schedule for 11 June in Reception and add segments of it to your calendar.
---
What is a Roundtable session and why do I have to pre-register?
---
The Roundtable Sessions replicates a roundtable discussion, or a breakout room, at a physical event. At our roundtable sessions, up to 10 people will be able to share audio and video and participate actively in the discussion with our selected speakers. As numbers are limited, we do encourage you to pre-register to make sure you can actively participate in the discussion of your choice. Don't worry though, audience members are also able to take part in the discussion, but by using the CHAT function in the session booth (this is explained further in the Delegates only FAQ section). Please note that audience members are not able to share audio and video.
---
Which browsers are best for the virtual conference platform?
---
It is highly recommended you stick with Chrome or Firefox. Please make sure they are up-to-date as well. Please avoid Brave, Safari and Microsoft IE and Edge for now.
---
What CPD points are available and how do I qualify?
---
We have secured CPD points from the following organisations: - NZIA (60 points) - ADNZ (Conference Day – Design 2/Documentation 2/Construction 2/Management 1. Workshop – Design 2.5) - Engineering NZ - NZIQS - NZGBC - NZIOB How to qualify: 1. You have to be a Delegate (buy your COLAB20 ticket to register). 2. You are required to watch all pre-recordings in the On-demand library. Our platform records that you have watched pre-recordings. 3. Submit a minimum of one question for at least one speaker prior to LIVE conference via the Forum Post. Find the speaker forum you wish to submit a question to. 4. Watch the LIVE conference. Our platform records that you have attended. Please note that your membership organistion may require you to submit your request for CPD points to them directly. PrefabNZ will process NZIA CPD points for registrants on 1 August 2020.
---
How to join a Round-table Session
---
---
How to log into the Virtual Conference Platform
---
---
How to edit your profile on the virtual conference platform
---
---
About the On-demand library
---
The On-demand library is filled with pre-recordings from our line-up of expert speakers. All paid delegates will receive a log in to gain access to the on-demand library. 1) Go to the menu on this website, Delgates Only/OnDemand 2) Choose your speaker, and either watch in thumbnail view or click on Watch in full screen. 3) You will be required to enter your Name and Email 4) For those speakers you have presentation PDF downloads available, click on the PDF icon next tot he choosen speaker to download. The On-Demand Library is available to all paid Delegates from 1 June till 6 July.
---
$99 Post-conference package CPD points
---
If you purchased a Post-confernce package, and wish to claim CPD points from ADNZ or NZIA, please contact them directly for processin once you have completed listening to the on-demand resources (this includes the pre-recordings that are listed as pre-requisites, and the podcst series). If ADNZ or NZIA require proof of completion please contact Jessica at jessica@prefabnz.com
---
---